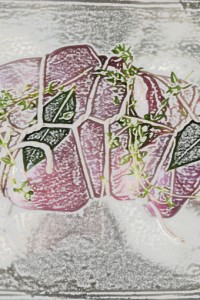 Last weekend I was casting around for what to do with some lamb breast and neck I had defrosted and the weather seemed to good for hearty stews. I asked the hive mind that is twitter and carried on flipping though cook books for inspiration. At roughly the same time as I was eyeing up a porchetta recipes Chris from La Hogue Farm shop suggested a herby stuffing and wrapping the breast round the neck.
And so I set out to make lamb-chetta.
I didn't want too dense a stuffing so I decided to simply use lots of fresh herbs.
[...]
Continue reading Lamb-chetta