This article was first published in Francoise Murat & Associates newsletter in March 2010.
Mention cheese and onion and most people think of crisps. My quick Twitter survey revealed answers naming the Walkers brand, the colour of their bags (blue apparently) and even Gary Linekar, the face of Walkers crisps for so long he must surely have earned more from promoting crisps than from playing football and being a pundit. A few people were more inventive suggesting pasties and toasties but for most it was all about the crisps. The reason the crisp flavour works well is that the milky sour tang of cheese and the pungency of alliums are happy bedfellows, which means they have lots to offer in the kitchen, and spring is when plenty of both are at their best, real cheeses and real alliums, not Walkers crisps.
Thinking about the combination a whole host of dishes come to mind: leek and cheese sauce for pasta or chicken, onion soup with a lovely melting cheese crouton, cheese with pickled onions, cheese and onion marmalade sandwich, fresh goats cheese with chives, Yarg cheese wrapped in wild garlic, omelettes, frittatas or flans in a variety of allium and cheese combinations. The possibilities are endless.
British grown alliums are at their best now, lovely slim tender delicate leeks, new season spring onions, regular onions, shallots and of course wild garlic. Wild garlic has become an 'on trend' ingredient in the last couple of years as foraging has grown in popularity. It's easy to find (the smell is a giveaway) particularly in woods by streams, you can grow it in your garden in a shady spot (but beware of it taking over) and you might see it at farmers' markets or farm shops. You can eat the leaves and the flowers but like any allium it can range from mild to blow your head off in strength so always taste a little first before deciding how to use it. If you go foraging make sure you aren't on private land or ask permission first, don't collect from close to busy roads and be sure you know what it is you've picked. Don't dig it up, leave enough for others to have some and for the plant to survive next year. The flowers are pretty sprinkled on salads and the leaves make a good substitute for leeks or spring onions.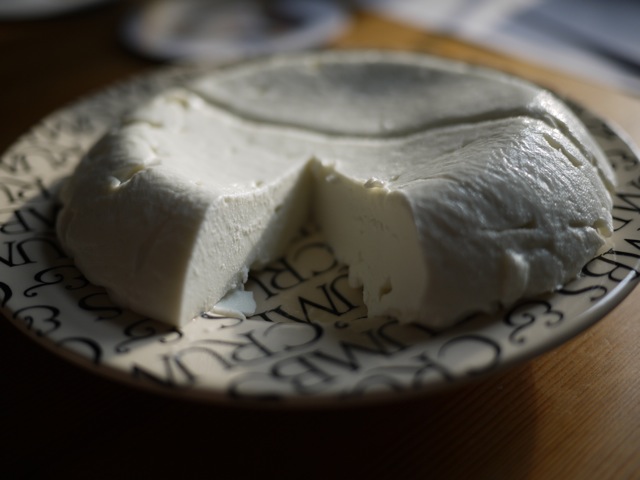 As for cheese, fresh cheeses are particularly tasty in the spring as herds start to feed on grass again enriching the milk with clean herby flavours. Britain has a wealth of artisan cheeses and you should be able to find at least at one or two fresh cheeses in delis and farm shops. If you can't then why not do a little experimenting in the kitchen and try making your own curd style cheese. It's very simple to do and works with all types of fresh milk: cow's, goat, sheep, even buffalo. Unpasteurised milk is lovely but normal works fine. This method is quick and easy and good as a supervised experiment for children. The yield varies depending on the milk, its highest with buffalo and lower with cow's milk but whatever you choose you'll get a lovely fresh delicious cheese. You can use the leftover whey in bread making in place of some of the milk or water.
Fresh cheese
Adapted from a recipe in the Casa Moro Cookbook by Sam & Sam Clark.
Ingredients:
750ml milk
1 tbsp essence of rennet (note that essence of rennet has already been diluted if you use undiluted rennet you must dilute it with water first)
Method:
Warm the milk to between 32-37C.
Add rennet and stir.
Pour into a bowl and cover with cling film.
Leave in a warm place for 30-45 minutes.
The curds will have set so cut them into about 3cm cubes whilst still in the bowl. Be gentle.
Leave for a further hour in a warm place.
Strain the curds into a muslin-lined colander.
Leave for about 6 hours for the whey to drain.
It's as simple as that. The cheese will keep for up to a week in the fridge. It's very mild in flavour and is particularly good rolled in some finely chopped wild garlic leaves or other fresh herbs. It also works well in omelettes, flans, and frittatas and stirred into pasta, with alliums of course and maybe a little mustard.
So next time you think of cheese and onion go beyond the immediate thought of a crisp flavour and branch out a bit in the kitchen.