Early in May I took up the #livelocal challenge. I learnt lots in the first week some of which I've already blogged about. A big part of taking up the challenge was not just to do it for a week but try to think more about what I ate, where it came from and so explore food options closer to home. And so to one of my favourite foods – CHEESE.

England has a great history of cheese making, we came a bit unstuck in the Milk Marketing Board post-war era with many cheeses being lost and production becoming very industrialised. Things have moved on, particularly from the 1980's onwards when the likes of Patrick Rance and Randolph Hodgson started championing and supporting small cheese producers. So we are now in a position where it's not that hard to find great cheese; wonderful examples of classics such as Cheddar, Cheshire and Lancashire and newer varieties that draw on French, Italian and Spanish styles of cheese (such as brie and soft goats cheeses).

Now I LOVE cheese in pretty much all its guises and I'm certainly not intending to give up all time favourites like Mrs Kirkham's Lancashire just because its outside the area I defined for #livelocal. I thought it might be interesting to see what cheeses are produced more locally. It transpires that the counties in my 'local' area are not really renowned as dairy farming areas (neither now or historically) and so there isn't a plethora of cheeses to choose from. There's some scathing comments in Patrick Rance's book from 17C on Suffolk 'flet' cheese are being 'mean' – it was made with skimmed milk so probably wasn't very rich in flavour. Undeterred I decided I'd take it county by county and see what I could find.

First up is Suffolk, mainly because I already knew of some cheeses I really love and I wanted to find more. On a recent short break in Suffolk I did a bit of cheese exploring and I came up with a cheese board of five contrasting cheeses and I'm hoping there are others I've still to try.

The cheeses are (L-R on the board):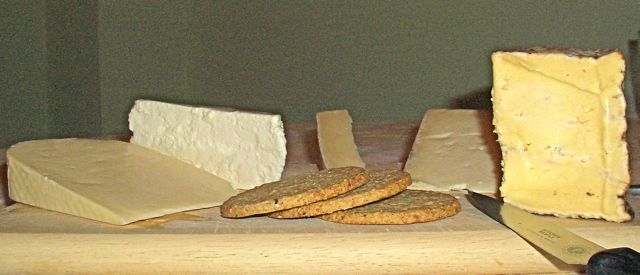 Buxlow Paigle, Buxlow Wonmil, Hawkston, Shipcord, Suffolk Blue.
So what were they like?
Buxlow Paigle: This is a relatively firm textured off white cheese. Its smooth, with a nice mild tang, its quite moist and a bit like (although less crumbly than) a very mild Wenslydale. It's made from pasteurised cow's milk on a small farm in Friston near Aldeburgh. There is also an apple wood smoked version; I didn't taste it this time but it worked well on a wonderful rarebit I had recently.
Buxlow Wonmil: Okay lets be honest here, this is one of my all time favourite cheeses and part of my inspiration for doing this tasting. Anyway it is quite a soft cheese, a little in texture like goats cheese but not as crumbly. It's very young and therefore soft, fresh and tangy with a lovely lemony-ness. It's very white in colour and is sold at only two days old. It's a classic fresh cheese that you don't find that much in the UK. I love it in frittata but its great on the cheese board too providing a nice contrast to harder cheeses. Again it's a cow's milk cheese and in case you couldn't guess from the name it's made on the same farm in Friston as the paigle. As you can see I love it.
Hawkston: Made from unpasteurised cow's milk and matured for 3-5 months this is slightly crumbly and quite tangy. It's rather like the cheeses of Cheshire, Lancashire or Wenslydale in style. It's quite white in colour and a refreshing hard cheese. It's made at Rodwell Farm, which is near Needham Market.
Shipcord: This is made by the same dairy as the Hawston, again from unpasteurised cow's milk. It's matured for longer (about 6 months) and is made by a different method. It's much firmer and yellower. Its rather like a mild cheddar or Lincolnshire Poacher. The dairy suggest its akin to some alpine cheeses and there is a sweet nuttiness to the flavour. There is also an extra matured and a smoked version available which I've yet to try.
Suffolk Blue: This is a blue version of Suffolk Gold. It's made from Guernsey milk so is very creamy and rich yellow in colour. It's a soft cheese like a firm rich brie in texture. It's very buttery, a little earthy and has a mild blue tang with undertones of salt. It's made by The Suffolk Cheese Company again near Needham Market.
Overall I enjoyed testing out some new cheeses that are local to me. I think my favourite of the new finds was the Hawkston but since I grew up in Lancashire maybe that's no surprise. I'll be adding them all to my repertoire but expect the Wonmil and Hawkston to the be the two I buy most often.
If anyone knows of any Suffolk cheeses I've missed then I'd love to hear about them so I can give then a try. I also need to decide which county from my 'local' definition to tackle next; basically there's Essex, Norfolk, Cambridgeshire, Hertfordshire and Bedfordshire to choose from, suggestions welcome.
I found all the by just looking out what was available cheeses in farm shops in Suffolk but a useful book for English cheese spotting is 'Great British Cheeses' by Jenny Lindford. Its pretty up to date as it was published in 2008. It's got good pictures and some background and tasting notes on each cheese. Unfortunately it doesn't have an index by county!