Last year when everyone was making marmalade with seville oranges I bought a couple of bags from the supermarket thinking I'd join in the fun.
Then I remembered that the last batch I made had lasted about 10 years as I don't really eat marmalade that often.
So I wondered if there were any more savoury recipes…I'm a fan of chutney and pickles and started thinking along those lines. I couldn't find any specific recipes and several people I asked were unsure if it would work.
After a bit of juggling ideas I decided to give it a go and try to make a sort of spicy seville and onion marmalade hybrid.
With no recipes to guide me I struck out and just made it up as I went along. Naturally I also failed to write down what I did.
Possibly more inevitably, almost 12 months later, when I opened the first jar to test it just before Christmas it was amazing. Mellow spices, sweet and orangey but with enough sharp tang and bite.
So here I am staring at the pictures I took hoping I can work out what I did.
I think its fairly simple.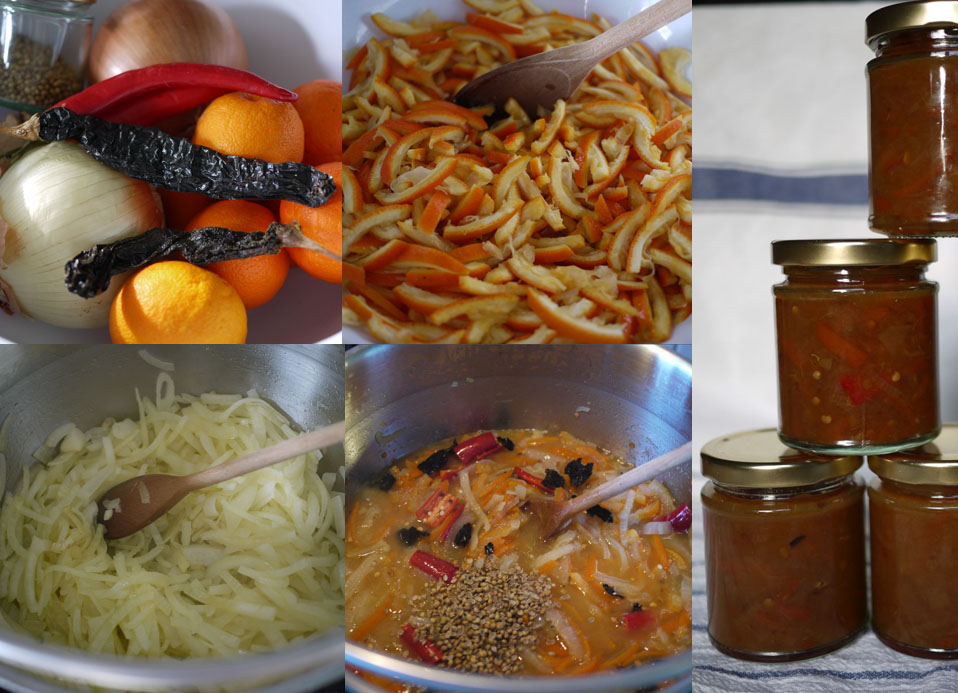 It roughly goes like this:
Ingredients:
Seville oranges
Onions
Chilli peppers
Dried smokey chillis
Coriander seeds
Fresh ginger
Method:
Juice the sevilles and set aside the juice. Slice the peel into strips.
Slice the onions. Cook the onions slowly in butter over a low heat to soften them.
Add the sliced peel, juice, spices and a some cider vinegar.
Simmer until soft and thickening and reduced by about half.
Put in sterilised jars and seal straightaway while warm.
Leave for ages to allow it to mellow.
Eat, with cold cuts or with poppadums…or just however you would normally have spiced chutney.