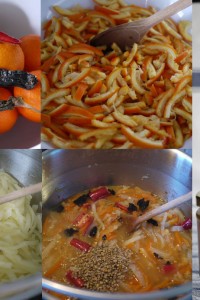 Last year when everyone was making marmalade with seville oranges I bought a couple of bags from the supermarket thinking I'd join in the fun.
Then I remembered that the last batch I made had lasted about 10 years as I don't really eat marmalade that often.
So I wondered if there were any more savoury recipes…I'm a fan of chutney and pickles and started thinking along those lines. I couldn't find any specific recipes and several people I asked were unsure if it would work.
After a bit of juggling ideas I decided to give it a go and [...]
Continue reading Seville oranges:spicy,savoury style marmalade