Last month I schlepped in right at the last minute with my Fresh from the oven challenge, this month I did better – hey I was there a whole week before the deadline baking away. How organised and complaint of me. Erm, well, maybe. Those who know me well know that doing what I'm told when I'm told is something I have mastered the art of mostly avoiding. So this month instead of taking the deadline to the wire I thought I'd ignore some of the very specific instructions and freeform the recipe a bit even though it wasn't something I'd ever tried before. Did this lead me on a route to disaster  – lets see……
I was pleased when I saw that Ria (of Ria's Collections) had picked what she calls stuffed buns, because I quick glance though the recipe suggested that these were going to be like the legendary curry buns I ate at a hill station in Malaysia with my husband on our very first holiday together. Wow. We have often reminisced about these little buns, which were wonderfully soft and had a lovely curry filling. We'd never tasted anything like them before and since I'm talking quite a few years back when only the (un)lucky few had email and the internetsuperhighwaythingy was in its very early infancy we never tracked down a recipe. They became a kind of mythical dish. Could Ria's recipe live up to all this?? We both had very high hopes.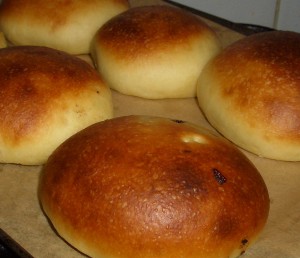 The recipe basically seems to be one for a kind of brioche type dough made with milk, a fair bit of sugar and also egg. Ria is very clear that it MUST be kneaded for 10 minutes to achieve the right consistency. The filling is a mild chicken curry, Ria suggests paneer can be used for vegetarians. And this is when I start to freeform. I happen to have some lamb curry leftover so I decided I'm going to use that as a filling – can't go far wrong surely. The dough just sounds too rich – I quite like brioche but since this is a joint memory we are trying to live up to here and Ian doesn't like sweet dough's I cut back on the sugar a bit and swap the egg for the same volume of milk. Then I just go for it and ignore the 10 minute knead instruction as well. I blame Dan Lepard for this entirely. He doesn't do a long knead and since learning his method in mid June I've become a bit of a convert…you make a rough dough, leave it for about 10 minutes, come back, 10 seconds of folding, repeat this rest and knead 3 times in the first hour and then once per hour during the first rise. It's worked well on every loaf so far I can't see why it won't work here. The theory is that it's not so much the vigorous kneading but the elapsed time that creates a good network of bubbles.
The dough is quite soft and a little sticky but not too difficult to work with as it has oil in it which makes it pliable. It rises quite quickly but it is a fairly warm day. After the first rise you divide it up and shape it into rounds put some curry mix in the middle and then shape rather like a round bread roll. It has a 20 minute rise like that and then it's in the oven. You have to be careful because the richness of the dough means it browns very quickly – they are cooked in 10 minutes.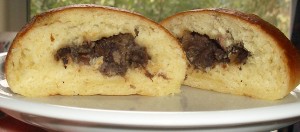 So were they any good? Absolutely yes. They had a good soft texture and certainly lived up to our memory from Malaysia. Even with my changes the dough was still rather rich and sweet for our liking so when I try them again I'll cut back on that further. It was a good way to use up some leftover curry and I don't think they suffered from all my meddling – of course I might be wrong, the real deal might be even more delicious, but I'm more than happy to have found a way to recreate a happy food memory.
Thanks Ria for the recipe and I'm not sorry I meddled with it :0
Recipe for dough (I used the cup measures in Ria's original):
1 tsp dry yeast (I used fast action yeast)
2 tbsp warm water
1/2 cup milk
salt to taste
1/2 cup oil (I used rapeseed)
2 cups all purpose flour (I used strong bread flour)
1/4 cup sugar (I sued about 1/3 cup and the dough was still too sweet I thought)
1 egg beaten (I used another couple of tablespoons of milk)
egg white and sesame seeds to decorate if you wish (I didn't)
 dissolve yeast in warm water with 1/2 tbsp of the sugar and 1/2 tbsp of flour. Leave for 10 minutes.
Boil the milk and allow to cool (gosh I didn't do this either). Once cool add sugar oil and salt and mix until the sugar dissolves.
Add 1 cup of flour and mix to a smooth paste.
Add the egg and also the yeast mix then the rest of the flour and mix to form a soft dough.
Knead using your preferred technique.
Rest and when its doubled in volume shape into flat rounds, fill and shape into buns by folding the the sides of the rounds to the centre. Decorate with egg and seeds if you wish.
Leave to rise for 20 minutes covered with a cloth then bake at 200C for 10 minutes. I actually did them at R6/180C and they took 10 minutes. Be careful they brown very quickly.