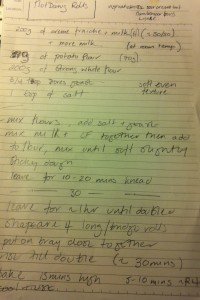 I like experimenting with bread recipes and I've got to a pretty perfect burger bun that is also great for breakfast bacon baps.
Recently we spotted some REAL hot dogs sausages from Unearthed and decided to give them a go. And so began a quest to find a good hot dog bun recipe.
Asking about on twitter led me to some recipes from Dan Lepard,Hawksmoor and also some tips from twitter friend Josordoni. I was aiming for soft but quite densely chewy and no sweetness.
After reading around and peering in the fridge to see wht was to hand [...]
Continue reading Hot Dawg Buns