Spurred on by various people posting inspiring midsummer treats (like Scandilicious talking about sweet sweet prawns here) I decided to have a sneaky bowl of some lovely ice cream I'd made last week for lunch (obviously I made lots just in case I needed a sneaky snack or two).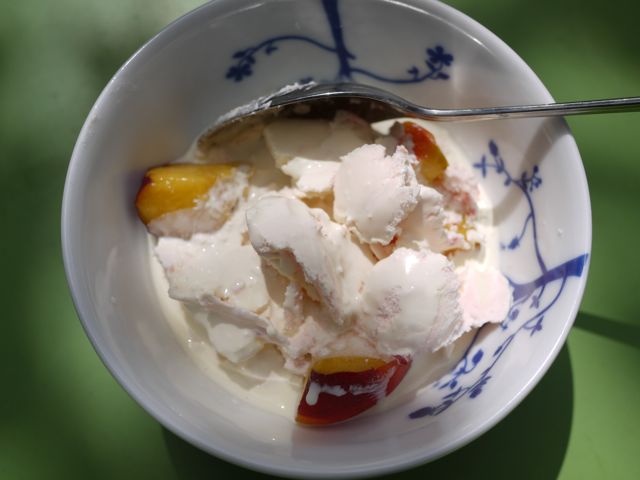 With sliced ripe nectarine and a sploosh of cream over it.
Its just about the easiest ice cream you can make no faffing with custards, no making of syrups. Just follow there basic instructions and you'll have lovely ice cream too.
Ingredients:
equal volumes of double cream and greek yoghurt (total volume to be equal to about HALF the size of the bowl of your ice cream maker)
a handful of soft fruit e.g. strawberries, raspberries, blactcurrants (I used raspberries) squished with a fork
a splash of cordial or fruit vinegar to complement your choice of fruit (I used Womersley Vinegars Golden Raspberry with Apache Chilli)
Method:
Mix all the ingredients together in a bowl. Set the ice cream maker runnning. Pour in the mixture. Leave to churn. Its quite soft set when first made.
Eat, with fresh fruit and double cream poured over.
PS: Don't have an ice cream maker well you can make it by the freezing in a box method but I've never tried. I suggest to get an ice cream maker on you must have gadget list
PPS for those who may be concerned I have switched to eating desserts I can confirm I had a rather good cheese and ham sandwich on homemade bread before I indulged in the ice cream