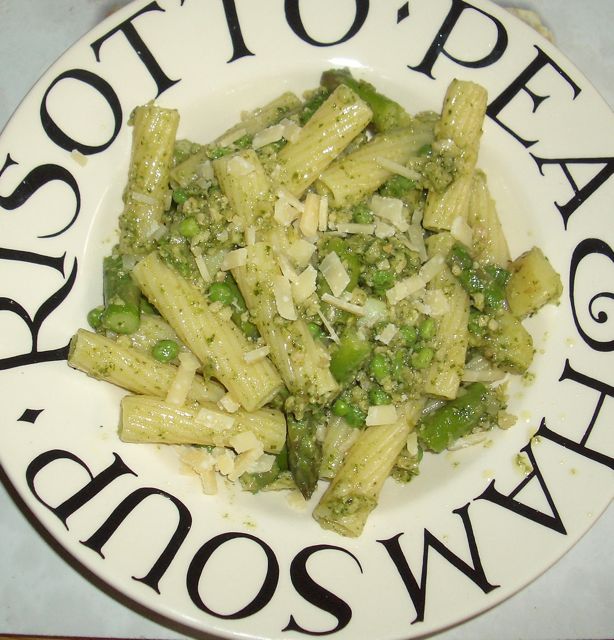 Yesterday when I was catching up with posts on a few of my favourite blogs I spotted a pasta blogging event that Mangocheeks at Allotment2Kitchen was taking part in. So I followed the links and ended up at Presto Pasta Nights, which this week (PPN #117) is hosted by Katie at Thyme for Cooking. The concept is that you blog about a pasta dish (well anything that has pasta or noodles in actually) and as pasta is one of my favourite quick dishes I thought it might be fun to take part especially as I had pasta for lunch on Monday from a mixture of things lurking in the fridge.
As I work from home quite a lot I get to rustle up whatever I fancy each day from whatever I can see in the fridge. I don't often buy things specifically to use for lunch but instead muddle through with whatever I can find from leftovers and store cupboard basics. Its fair to say our cupboards and fridge are fairly well stocked so it not often that I struggle to make something tasty, but I do tend to really on pasta, salads and open sandwiches a lot.
On Monday the fridge yielded:
some cooked garden peas and new potatoes leftover from dinner the night before
the remains of a bunch of asparagus that had got hidden behind something else so it wasn't in top form any more but still edible
some fresh tarragon pesto that was dangerously near its use by date
the last of a chunk of parmesan
So I headed to the cupboard and dug out the current pasta shape (some De Cecce Tortiglioni) and cooked it as per the packet instructions. I steamed the asparagus above the pasta for about 7 minutes and then cut it into 2cm lengths. Once the pasta was done I drained it, put it back in the pan and stirred in a couple of spoonfuls of pesto, and tossed it with the asparagus, peas and potatoes (cut into 1cm dice). Into a bowl with a good grating of parmesan on the top and there was my lunch. Maybe 15 minutes from fridge to table – not bad.
Note: The fresh pesto was Purely Pesto. I'm going to be doing a producer review soon so watch out for that.