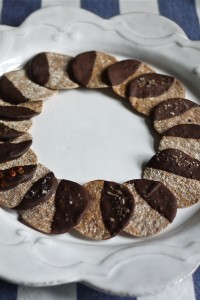 One of the great things about working,in my day job,with people who make lovely food is that I get to taste it and also get to be a part of thinking about new products and new recipes.
What could be better?
So when the team at Peters Yard were getting together for our 2013 planning day I thought I'd try an idea I'd been toying with for some time.
Chocolate dipped crispbread. Yes really.
Now Peters Yard are no ordinary crispbread. They are made to an artisan Swedish recipe with sourdough starter and simple ingredients. The taste [...]
Continue reading Chocolate dipped crispbread