At the end of March I went off to the depths of Suffolk to meet Veronica from Leaf House. She'd asked me to come and visit to talk about how I might be able to help her as she switched the focus of her business. She also promised to make me a curry for lunch. We had a great day chatting business stuff and I can report that the curry was A-Mazing.
So I made sure I got the recipe. I've made it twice so far and it really is simple and gorgeous. Don't be put off by the long list of ingredients for the paste its worth it.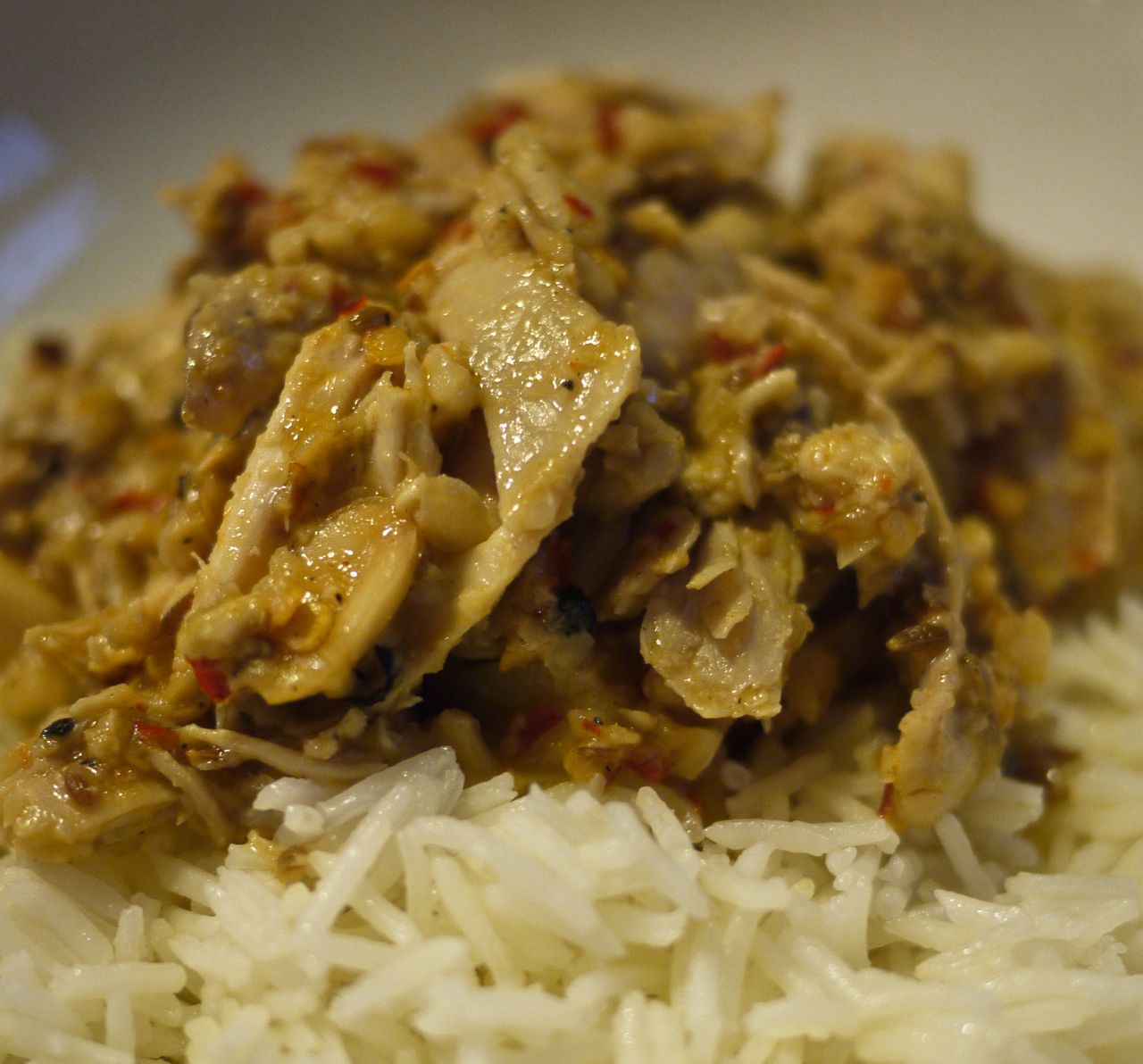 This is the recipe as Veronica gave it to me, with my adaptations in brackets:
First you have to make the red curry paste but you can blitz this to make it easier (I did and it was super easy). And you will have heaps left over to either make this one again or just use it for a 'normal' red curry 9I did half the amount so had none leftover). If you blitz rather than pound the paste, its a good idea to do at least day before so flavours 'meld' together (I didn't I wasn't that organised).
Red Curry Paste
nb.. recipe is from an Australian book 'Thai Cuisine' by Mogens Bay Esbensen… 1 cup = 250mls and 1 tablespoon is 20ml
1 cup shallots (red onions) chopped
1 cup garlic, chopped
1 cup lemon grass, tender parts only, chopped (I didn't have any)
2 tablespoons coriander root (I didn't have any of this either)
2 tablespoons galangal/laos root… fresh or dried, chopped
2 teaspoons peppercorns
2 teaspoons coriander seeds, roasted
2 teaspoons cumin seeds, roasted
2 teaspoons lime or makrut zest, grated
1 teaspoon nutmeg, ground (I didn't add this as am not much of a nutmeg fan)
1 teaspoon mace (I didn't have any)
20 – 30 dried red chillies (I used chilli flakes about 2 teaspoons worth)
4 tablespoons shrimp paste (kapee) (didn't have any of this either)
2 tablespoons salt
Grind all together really well. Store in large, well sealed jar in the fridge. Keeps well. (As you can see I didn't have lots of the ingredients BUT it still made a lovely curry)
Panang Gai.. dry chicken curry
750g chicken breast (I used left over roast chicken as that what I had and it was a mix of breast and leg meat)
1 tablespoon fresh or tinned green peppercorns, crushed (didn't have any)
50g plain flour (ooops forgot this)
100ml vegetable oil
50g red curry paste
250ml coconut cream (not milk)
25g sugar
40ml fish sauce
60g roasted peanuts, chopped
Basil leaves to garnish.
Remove skin from chicken and cut into bite sized pieces. Rub crushed green peppercorns into the chicken meat and then toss in flour (obviously I didn't do this bit). Heat oil in wok and stir fry chicken pieces until well coloured and nearly cooked. Remove chicken to platter and set aside.
Add curry paste to wok and stir fry for 2 minutes. Stir in coconut cream, sugar, fish sauce and peanuts. Stir well for 5 minutes.
Toss in chicken and coat with the thick sauce. Turn out onto serving platter and garnish with basil leaves.
note: I cooked the curry paste and sauce first and cooked for longer to thicken it as I hadn't used flour, probably for 10 minutes. Then I added the chicken and cooked for another 10 minutes. I added some bamboo shoots at the end because I had some.
I think the secret is in making the spice paste it seems to give a much better tasting result.