Ahhhhhh its barbecue time of year and barbecue kind of weather: smell the grilling food, hear the chink of glasses, the laughter, the fun, the delicate aroma of firelighters, the burnt food, the lobster tinged neighbours. England, the summer.
But it's be a shame not to join in with at least some of this, right? Correct.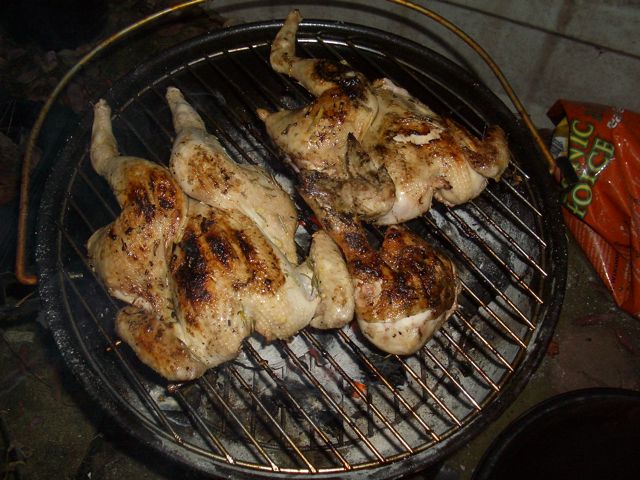 Here's the easy chicken (well poussin actually) we did last night:
2 poussin butterflied

(dead simple this, lie it breast bone down, hold the parsons nose, cut along either side of the backbone and remove, flip it over, press down firmly on the breast to flatten, et voila. If stuck try YouTube for clips).
Marinade

in

lemon

juice, zest,

oil

,

garlic

and

rosemary

for a couple of hours (use 50:50 juice to oil).
Light barbecue

(using your preferred method: paper, firelighters, gas ignition) and wait for coals to be that delightful glowing cooking temperature.
Pop the poussin over the heat and

cook for about 30 minutes

turning regularly (cook it with skin side up more often than down, this way it cooks the meat from the inside without over cooking/burning the skin).
Meantime

heat

the remaining

marinade

in a saucepan and simmer hard to reduce to a nice glossy

sauce

.
Cut each poussin in half to make

4 portions

. Eat with veg and carbs of your choice.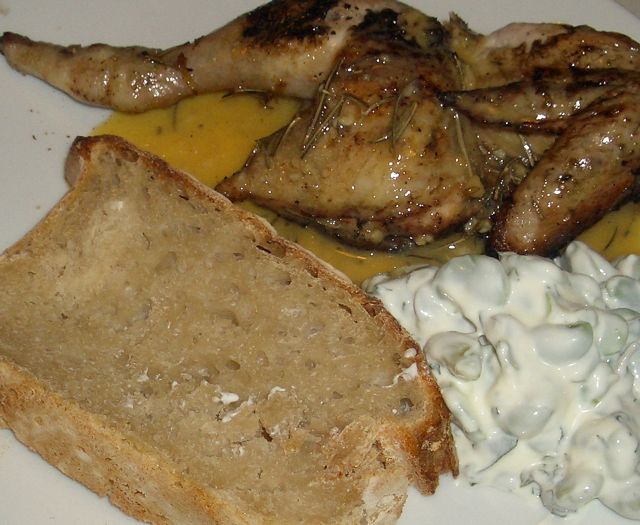 We had homemade sourdough bread to mop up the sauce/juices and broad beans tossed in minty yoghurt.