The first of the recipes from my festive menu is the cheese terrine we had as a starter with Peters Yard crispbreads and a selection of smoked and cured salmon from Forman's.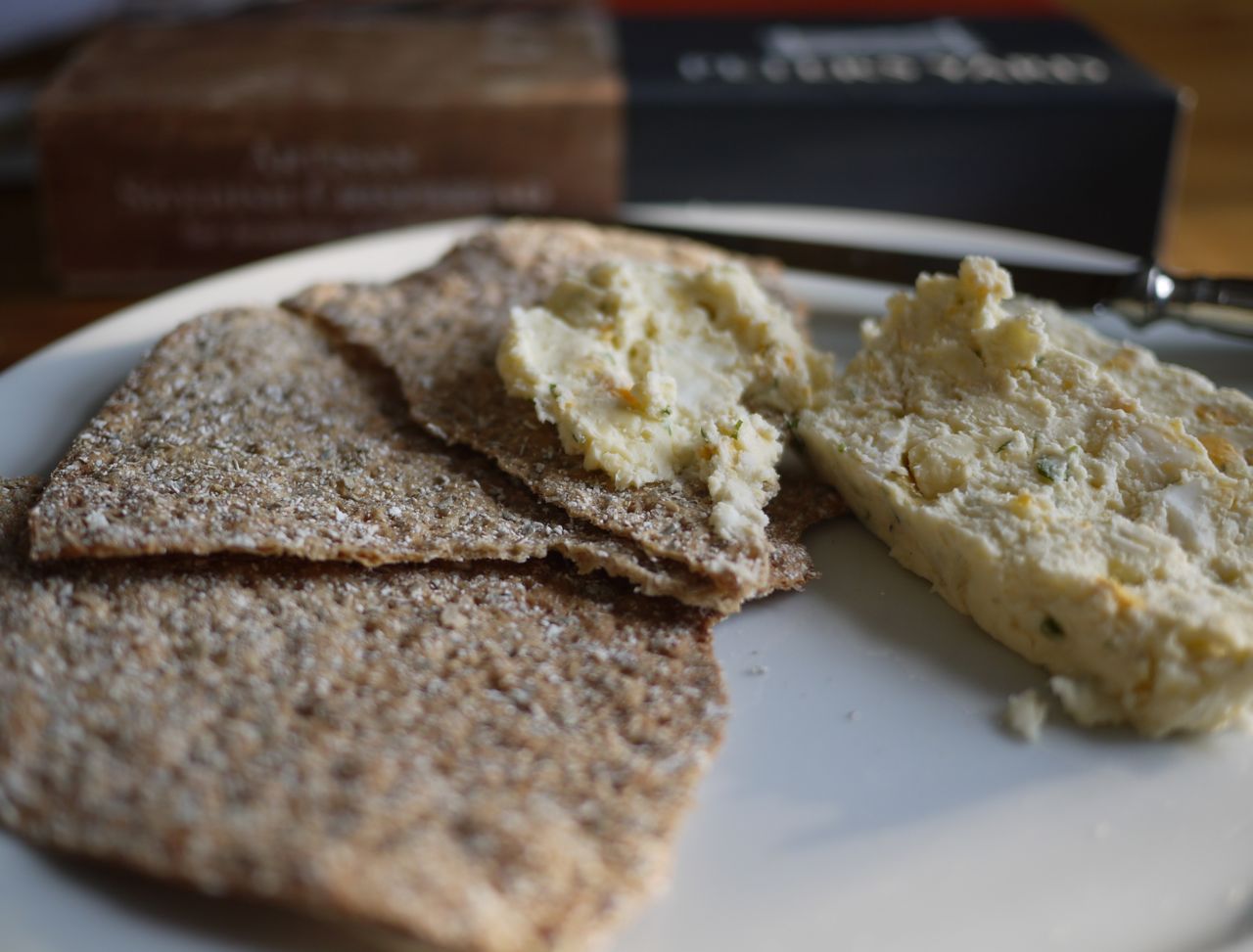 The terrine is adapted from a recipe in Delia Smith's Christmas (the old version I've no idea if its in the recently published version). I particularly wanted to use a range of Lancashire cheeses but you could use any mix of cheeses you have and it would be a good way to use up what's left of a cheese board. It makes a good starter or a light lunch dish (which is what I've been doing with the leftovers).
Cheese terrine
You need:
275g of cottage cheese or other mild young soft cheese, I used Lancashire curd from Butlers but I think Brock Hall Farm soft goat cheese would also be brilliant.
75ml mild good mayonnaise or greek yoghurt
sachet of gelatine powder or two leaves of sheet gelatine
50g each of three hard cheeses, one of which should be a blue cheese, I used  Blacksticks Blue, Creamy and Tasty Lancashire combined (25g of each) and Goosnargh Goats all from Butlers Cheeses
tablespoon of chopped fresh herbs of your choice, I used flat leaf parsley
water and lemon juice to dissolve the gelatine
150ml double cream
salt and pepper
a loaf or terrine tin 18 x 9 x 5 cm lightly oiled
Dissolve the gelatine as per the packet instructions. Blend the cottage/curd cheese with the mayonnaise/yoghurt until smooth. Cube the hard cheeses into 1/2 cm pieces. Whip the cream to the floppy stage.
Add the dissolved gelatine to  the soft cheese mixture and stir thoroughly. Add the hard cheeses, herbs, salt and pepper and mix. Then add the cream and stir through. Pour or spoon into the terrine mould. Cover with cling film and leave to set for 3 hours or more in the fridge. Turn out onto a plate and serve in slices or allow people to help themselves.
Enough for 8 as a starter.