"Ahhhhh…" came the voice from beyond the fence, "it isn't a proper British summer without crab sandwiches, it really isn't….I do declare that crab sandwiches are the epitome of the British seaside". We sniggered quietly, picturing the lady next door lying on her sun lounger eating crab sandwiches and extolling their virtues loudly to no one in particular.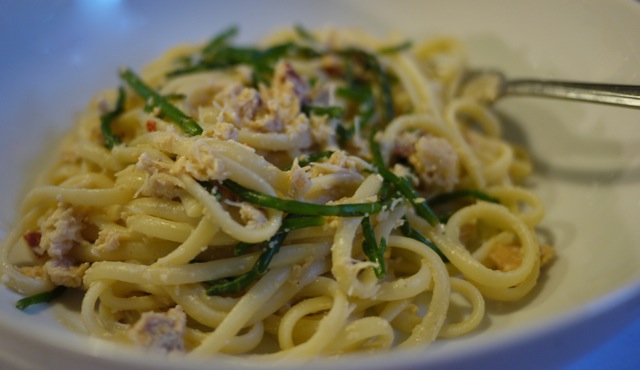 And although amusing she had a point, proper sandwiches made with good brown bread, some lemony mayonnaise and fresh fresh crab really are rather lovely, and very British. Of course there is nothing to beat the British coastline in August for variety and fun and food. From wide open huge sky sandy beaches, pebbly beaches, vertiginous cliffs, coves, rock pools, salt marshes to faded Victorian promenades, piers, arcades, fish and chips, greasy spoon cafes, beach chalets, fresh fish, and cockles; there is something for everyone whether its a day trip or a proper holiday. Best of all though, lots of the smaller seaside towns seem to have wonderful food on offer, you don't have to go to Padstow these days, all along the coast you can find great food.
Regardless of whether you are at the seaside you can bring something of the salty freshness of British seaside air to you table with two of the best coastal produce that are in season right now…yes those brown crabs and samphire. As ever the fresher the better, if you are happy to cook crab yourself then buy live and follow the RSPCA advice on humanely dealing with the crab before cooking in salted water for 12 mins for the first 500g and 5 mins for every extra 500g. Pick out the meat and use in a simple salad or sandwich, with good brown bread of course, I use this recipe from my blog but with 50-70% wholemeal flour, the rest white flour and all water for the liquid (though part milk will work well too).
There are lots of fancy recipes for crab but I find because the meat is very rich simpler is better and preferably with something to counterpoint the richness. Things that work well are green vegetables such as broad beans or peas and curiously eggs and perhaps a little chilli. And of course samphire, the saltiness cutting through the richness perfectly.
Samphire has been having quite a renaissance in British cooking and is now rather sought after. It can be hard to find as it usually sells out quickly but persevere and you will be rewarded with something that can be eaten simply steamed and dressed with butter a bit like asparagus, on salads, or as a side vegetable particularly with fish or lamb. You can try foraging for some if you are near an estuary (flat wide muddy ones are best, but be certain you know what you are collecting, don't pull up the roots, don't over collect and be sure you have permission to collect it). It keeps reasonably well with the ends wrapped in damp newspaper. When you are ready to eat it trim off the thicker ends, depending on how you are going to use it you may want only the top few inches of the tips as the thicker parts have an inner stem. Its easy to suck the juicy flesh off the stem when you are eating it as a side dish but in a tart or omelette or other dishes its better to have only the tender tips. I usually steam it for around 5 minutes (don't add any salt), any longer and its less flavoursome. If you happen upon an abundance then you can freeze it (blanch for 2 minutes first) or pickle it, though in my kitchen it doesn't last long enough for either of those two things to happen.
But what of combining crab and samphire into a perfect seaside influenced dish. Two wonderful possibilities spring to mind: a tart and a pasta dish. I found this tart recipe blogged recently by Ailbhe of Simply Splendiferous so rather than create my own version take a look at hers. And for those of you who fancy a pasta dish try this:
Crab and samphire pasta (4 people)
75g dried linguine or spaghetti per person
1 medium brown crab
75-100g samphire (if you can't get samphire then spinach or green beans would work well)
1 fresh chilli chopped finely or a pinch of chilli flakes
Method:
Cook the crab and pick out the meat, or buy a ready picked crab from somewhere you know its super fresh
Trim the samphire and use only the tender tips (top 5-8cm), steam for 5 minutes until cooked
Cook the pasta as per the packet instructions and drain
Toss the pasta, crab meat, samphire and chilli together
Serve
Sigh gently at the very British summery-ness of the dish as you eat
This article was first posted in Francoise Murat's newsletter.