When the Beyond Baked Beans team asked if I'd do a recipe that would appeal to students for their blog I was pleased but stumped. It's a long time since I was a student and I was lucky (or unlucky) enough to get through Uni without having to cook much more than the odd slice of cheese on toast and the very occasional chilli. This isn't because I lived at home rather its because I lived in college all three years and the college catering seemed to be modelling itself on a pretty reasonable hotel. And then each time I came up with an idea another faster more organised blogger had pipped me to the post. And so it is that I thought of burgers, something so easy to make I'd almost missed it….here's the post I did for Beyond Baked Beans so that you too, as well as all those lucky students, can create your own delicious burgers.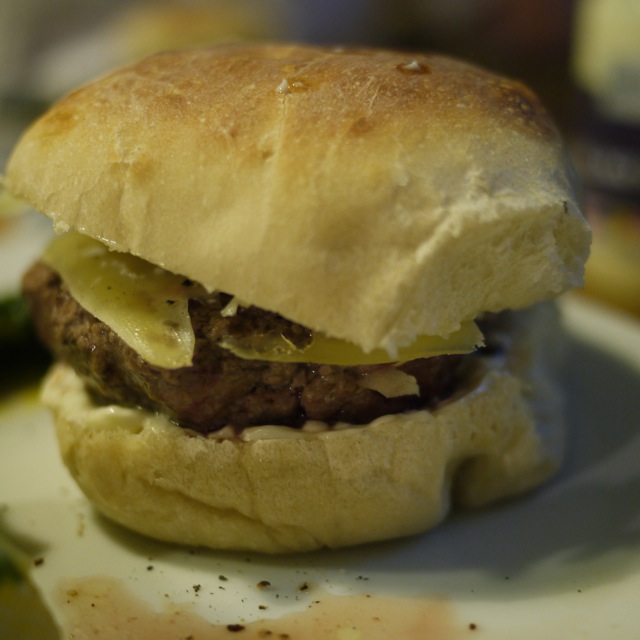 Everyone loves burgers (well everyone who loves meat). Homemade ones are brilliant, once you've tried them you'll never want to buy ready made again, because there is no point. They are really simple to make and they taste so much better.
You can mince the meat yourself but I'm guessing if you have a mincer you probably don't need me to tell you about making your own burgers….
You should allow between 150g-250g of meat per person depending on whether you like small, medium or really quite large burgers. I find that 3 burgers from 500g is about right if you've got toppings and side dishes. Its also important that you go for the 20% fat mince, less fat and your burger just won't be as juicy and tasty, burgers are not the place to be exercising fat content control. Get the best mince you can find it does make a real difference to the taste.
This is a kind of design your own burger recipe…..
Ingredients (for 3 people):
500g of mince (beef, lamb or pork)
1tsp to 1tbsp of herbs or spices to complement your chosen meat (see below for my favourite combinations)
salt and pepper
3 white buns or rolls, again the nicest you can find
cooking oil
condiments: mayo/ketchup/tomato/mushrooms/sliced cheese/bacon/lettuce/onion as suits you and the burger
sides: chips, coleslaw, salad etc
Method:
Break the mince up in a bowl, add salt and pepper and mix in. You can leave your burgers plain but I like to add some spices or herbs: add your herb/spice of choice, mix in and leave for 30mins to 1 hour for the flavours to mingle and then form the meat into three equal patties with your hands. You just need to squash and shape it and it will hold together fine. Aim for about 2cm thick and don't worry if its not perfectly flat.
Pour some cooking oil onto a plate and coat each burger with oil by putting it on the plate and moving it about a bit on each side (don't worry about the edges, just the flat surfaces).
Heat your chosen pan, a griddle plan will give you nice seared lines but a frying pan is fine. You don't need any oil in the pan as you've already oiled the burger. When the pan is nice and hot put the burgers in. Turn the heat down about ¼ – ½ way. Leave the burgers alone to cook. After about 2-3 minutes they will be ready to flip and they will come away from the pan easily. Turn them over and leave again. This will give you medium-rare/medium burgers; cook for longer if you wish.
Serve on the buns with the condiments and side dishes of your choice.
Good spice/herb combinations are (picking just one usually works best). Use 1 tsp of spices (ready or freshly ground) or dried herbs and up to 1 tbsp of fresh chopped herbs:
Beef: chilli flakes or fresh chilli, coriander seeds or leaves, English mustard powder
Lamb: cumin seeds, coriander seeds, mint, oregano, rosemary
Pork: sage, smoky paprika
Think about how different cuisines spice their food and you'll find plenty more options.