This is my first 'Fresh from the oven' bread baking challenge. I missed out on the first two because, well because, I was just too slow off the mark signing up. Anyway I've joined up now and I'm hoping its going to a be a fun way to do some different breads and also chat with other food bloggers and improve my breadmaking.
As soon as I'd signed up and logged on I took a look at the challenge and thought 'hmmmm interesting, not tried that before, best do some reading round the matter'. This is a technique I term displacement activity i.e. read up on things rather than getting on with doing them, instead why not mull them over, learn something new, contemplate different angles, ponder, maybe be buy a new and, of course, necessary piece of kit to aid the process.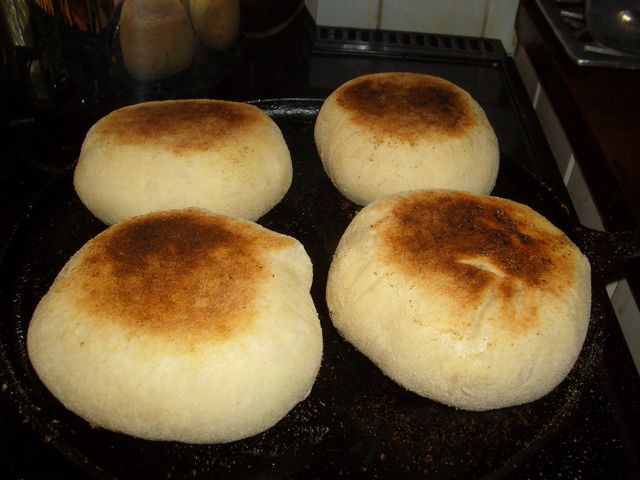 And then….
I was sitting around on Wednesday thinking:
'um must be time to do another loaf of bread what shall I try?', and
'hmmmm haven't written a blog post for ages AND haven't blogged any of my bread exploits'
when suddenly I thought:
'*******! I've got to have posted my Fresh from the oven challenge on Friday and I haven't even done it yet'.
Big whoops – talk about in a world of my own.
Anyway very fortunately for me, Claire over at Purely Food, who set this months challenge, had picked English muffins and a quick squint at the recipe revealed that it didn't require any exotic ingredients – in fact I had everything I needed right there in the cupboards. So I was sorted for a day of bread making yesterday. There's nothing like taking a project to the deadline I always say…..
The recipe Claire had given us was from the River Cottage Handbook (#3 Bread) (see it here) but we are free to use other recipes or adapt as we see fit, all in the spirit of experimentation and sharing tips and techniques. I decided I'd stick pretty much with the recipe but halve the quantities as it said it made 9 muffins and that seemed rather too many for two people one of whom remains to be convinced that muffins are worth the fuss (lets hope these homemade ones are a hit). I also adapted the kneading technique to the one I learned from a 1 day Dan Lepard masterclass I attended back in June.
Here's my thoughts on the recipe and how things went:
halving 325g makes it difficult to weigh out on lovely old-fashioned balance scales – I think I really do need electronic scales
I always weigh the water – weird but more accurate; remember from at school 1ml = 1g
I should have used 5g of yeast but the sachet was 7g so I put the lot in
I used extra virgin rapeseed oil instead of sunflower – because that's what was to hand
the dough wasn't as sticky as I expected initially so I added another splash more water – kind of undermines my accuracy of weighing the first bit as I don't know how much a splash is
I used the Dan Lepard kneading technique – i.e. several short kneads spaced out
it was a warm-ish day so the dough seemed to rise quite fast, it only took about an hour to double in size
halving 9 gets 4.5 you can't make 4.5 muffins I chose to make 4 instead
I cooked it on an oiled flat cast iron griddle
the muffins came out pretty giant
it's hard to tell how brown or otherwise they should be on the outside as there's only a picture of one split and toasted – I think mine are probably too brown
All that remains is to test them at breakfast in a bacon and egg McMuffin style. I shall report back.
UPDATE 30/08/2009:
The McMuffin style breakfast worked really well. We toasted the muffins lightly then buttered them, added 2 rashers of bacon (unsmoked), dolloped on some ketchup and topped with a fried egg (easy -overed) then popped the top of the muffin on and munched away. I was so busy eating I forgot to take a picture (ddoh). They tasted really good although we didn't wrap them in greaseproof as Mathilde had suggested (see her McMuffin brunch post here),Ii might do that for extra fun if I had guests staying.
Overall I've been really pleased with the muffins and I'll do them again, its nice to try something different. The texture came out nice and even and they stayed good for 3 days – don't know if they would last longer if I'd made the bigger batch. Curiously the semolina flour on the outside makes them taste slightly salty even though they aren't. They made a tasty change from soft rolls and they were scored 7/10.
The remaining two muffins have also been eaten at breakfast; yesterday with blackberry curd: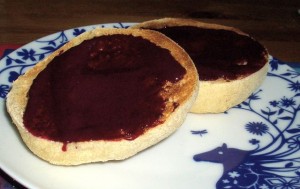 and today with sausages. Look: