Although spring definitely feels like it might be on the way some days are still pretty cold and so a warming soup is just what's needed, here's some thoughts on soup I wrote for Francoise Murat & Associates newsletter in January. I think I might just have soup for lunch tomorrow.
January is a funny month. For some people it feels slow and difficult, winter is most definitely with us, its cold and its dark, summer seems such a long way off whichever way you look at it. For others it's a chance to think afresh of a new year with new challenges, making resolutions and feeling energised by the possibilities. But what has this got to do with soup? Well the versatility of soup and the range of recipes out there mean it can work for whichever way you see January. It can be warming and comforting or bright, lively and refreshing. Hearty or light, you can make it whichever way suits you best.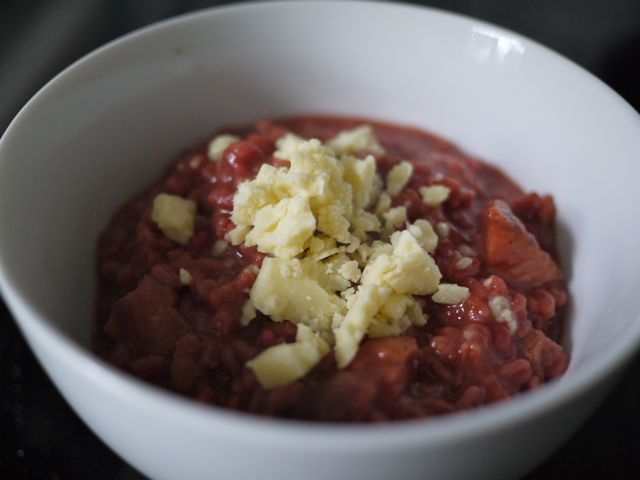 To make really good soup though you need some good stock. Water will work in many recipes but I've rarely made a soup that isn't enhanced by using stock rather than water, there is an extra layer of flavour and complexity. People will compliment you on the simplest of soups if you've used stock. Making stock doesn't have to be complicated; it can be as simple as simmering a few vegetables in water with or without a few herbs right up to making a consommé, essentially a beautiful clarified reduced stock. I usually make stocks with the carcass left over from a roast chicken or the bone from a rib of beef, or keep the liquid from cooking boiled ham and use that as a stock, I like doing this because each stock carries some of the flavours of the original meal and it makes best use of the meat you've bought. You can also get bones or chicken wings specifically and make a stock with those. Most recipe books will explain how to make a range of stocks but 'A Celebration of Soup' by Lindsey Bareham is particularly thorough, if you can track down a copy, with recipes for just about every type of stock you can imagine. Stock is perfect for freezing and then always to hand. If you don't have a freezer then some good quality stock or bouillon cubes will give you a better result than plain water.
So you have your stock. Where might you head next? These are the things I think about when building a soup:
Thick or thin: Do I want a broth with interesting chunky additions or do I want something thick and velvety smooth in texture. Clearly you can pick somewhere between these two but I like to decide which direction I'm heading on this one before anything else.
Herbs or spices: I usually either head for something based round European flavours and herbs or something mainly based round spices whether Indian, Mexican, Middle or Far Eastern. Then I narrow down a bit to a more specific cuisine British, French, Italian, Spanish, Moroccan, Chinese, Thai, Indian and so on.
Then I take a look in the fridge and the cupboards and see what fits with the ideas I've got. Of course a little bit of tweaking happens at this stage when I find a critical part of my genius soup is sadly unavailable, but usually it is easy to stay fairly close to the original idea. If there is left over roast meat that might feature, sometimes there are roasted root vegetables that can be included, or beans of various types, pearl barley or lentils, tinned tomatoes or passata, chorizo or pancetta or salami, fresh ginger or chilli, mushrooms, potatoes (roast potatoes are lovely in soup), peas and so on …… but not all in the same soup. I rarely follow a recipe specifically but I do always take a look in a few books to help my ideas and also make sure I'm not making some horror of clashing ingredients. Sticking to a few key ingredients and combinations that you know work from your other cooking really helps and of course, so does making a soup to a particular recipe every now and then to expand your repertoire.
Here are guidelines to 3 quick soups I make quite often (all recipes for 2).
Beany Pork Soup
500ml stock (preferably ham but chicken or vegetable also work)
1 tins of beans (e.g. chickpea, haricots, butter, red kidney) including the liquid in the tin if its got no added salt
Pancetta, salami, chorizo, bacon, left over boiled ham or roast pork, whichever you have
Onion (chopped)
Oil (rapeseed or olive)
Herbs or spice to complement
Sauté the onion in some oil and when translucent add the meat that you are using and toss with the onions, allow to cook through if the meat is raw. Add the stock and the beans. Add your chosen spices and seasoning and simmer gently until it is properly heated through, about 20 minutes. Serve with bread. I sometimes add finely shredded cabbage, greens or spinach to this soup or if there are cold cooked potatoes a couple of those to make it thicker and heartier (mush them in with a fork) or leftover cooked pearl barley.
Roast Root Vegetable Soup
500ml of stock
500ml of roast vegetables (i.e. put them in jug to see how much you have), any mix you like. I particularly like it when there is beetroot as it makes the soup an amazing colour
Onion (chopped)
Oil (the same as you used to roast the vegetables)
Herbs or spices of your choice
Cheese to sprinkle on top
Sauté the onion in some oil and when translucent add the stock and the root vegetables. Add your chosen spices and seasoning and simmer gently until it is properly heated through, about 20 minutes. Either whizz in a blender, food processor or using a stick blender or mash with a potato masher. The texture can be anything from velvety smooth to quite chunky but it should all be well combined, this isn't a broth with bits soup more a liquidy puree. Serve with cheese sprinkled on top and bread.
Spicy Soup
500ml of stock
fresh ginger and chilli finely sliced
other spices of your choice
chicken or beef or prawns or vegetables, cut in small pieces (except prawns)
spring onions or garlic finely chopped
rapeseed oil
Have the stock already heated in a separate pan. Sauté the spring onions or garlic in the oil until softened. Add the ginger and chilli and sauté for a few minutes. Add any further spices and sauté briefly. Add the meat, vegetables or prawns and cook on a high heat like you would a stir-fry. Add the hot stock and bring to the boil. Serve immediately and add Asian seasoning such as soy sauce or nam pla if you wish. You can add noodles to the stock (cooking to the packet instructions).