This post was originally published in early November in Francois Murat Design newsletter. Although the apple season is pretty much at an end now many varieties store well so this is still a lovely dish to make over the coming cold months……
Autumn is well and truly here, the nights are drawing in, the weather is cooling day by day. Many of the fruits and vegetables are harvested. Those that can be have been turned into preserves of various kinds or carefully stored away to be used over the winter months.
Apples are still with us and there are varieties that are still being harvested during November but the main crop has been taking place throughout October and celebrated with Apple Day events across the country. Apple Day was started 20 years ago by Common Ground to help save and celebrate the huge range of English apples that were being lost bit by bit. In that time much progress has been made and varieties that were almost lost have been reintroduced. If you care about British food though there is still plenty to be done and attending an Apple Day event can be great fun for all the family with a chance to buy apples, press your own juices or simply learn more about orchards and the variety available. If you missed out this year then put a little reminder in your diary now to seek out apple events next October, and in the meantime support the growers by searching out interesting varieties or even sponsoring a tree at a community orchard project.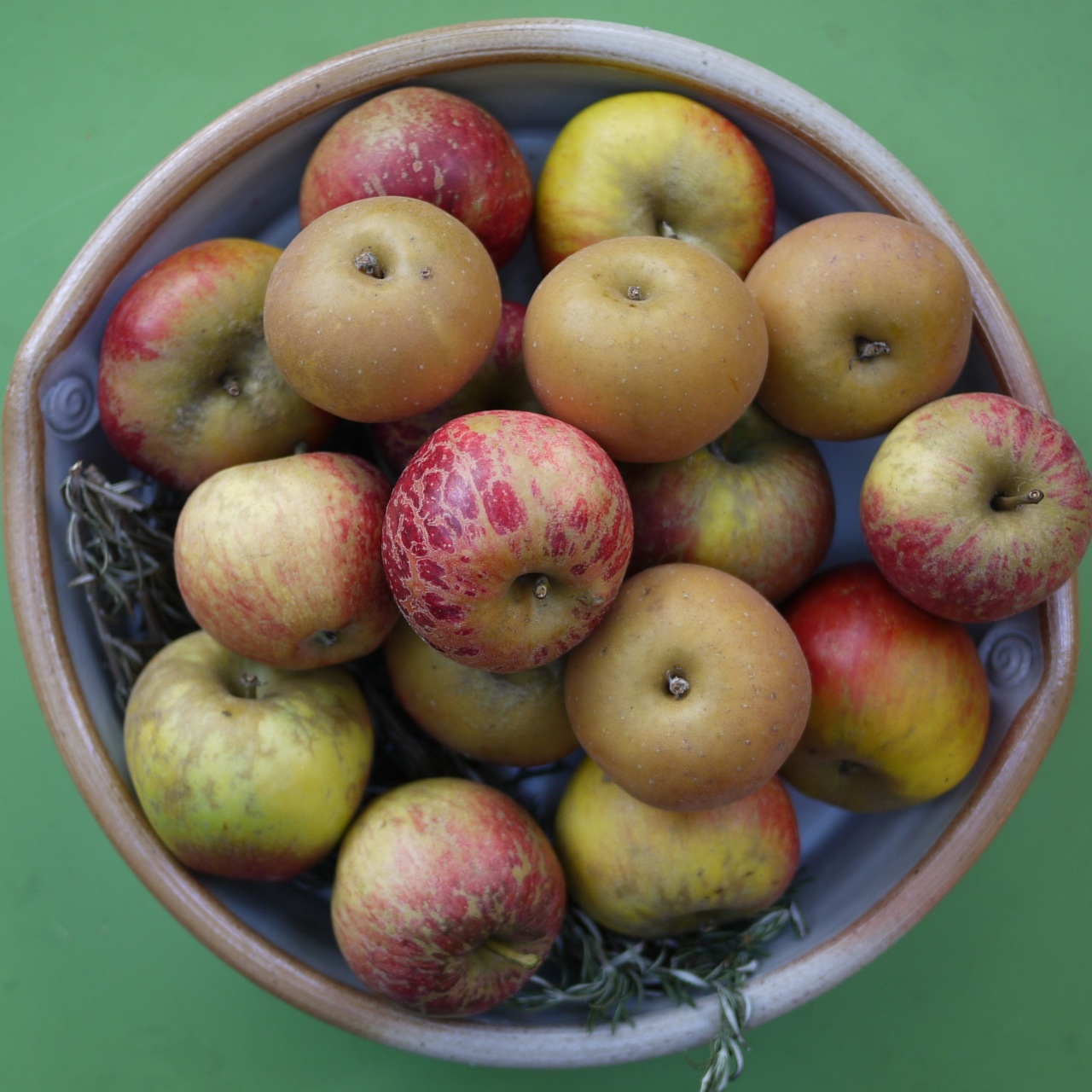 Autumn is not only a time for preserving fruit and vegetables its also the time when, traditionally, meat would be preserved in a variety of ways to see the household through winter and save on animal feeding costs. This is particularly true of the pig. In 'Charcuterie and French Pork Cookery' Jane Grigson says:
'It could be said that European civilization – and Chinese civilization too – has been founded on the pig.'
Of course there are plenty who don't eat pork and they would disagree with Grigson's statement and her subsequent analysis. But for many it has been staple of cooking for centuries and the tradition of the autumn pig slaughter and subsequent preserving is well documented. Bacon is also often cited as the meat that vegetarian converts most miss but I'm not sure there is any real data to back this claim up. For those with strong constitutions I highly recommend Jeffrey Steingarten's essay 'It takes a Village to Kill a Pig', not for the faint hearted, but fascinating not least because it was first published in American Vogue, not the sort of place you imagine happening on a detailed account of traditional pig slaughter in a Basque village. Preserving meat is not something I've tried although there are now quite few books and courses around on preserving the bounty of the pig and I know of a number of people who make their own sausages, bacon and salami at home. I'd recommend reading Tim Hayward (of The Guardian's Word of Mouth) articles as a good starting point.
Now of course we can eat pork (and other meat) all year round if we want to. Whether it tastes its best or has been reared in a sustainable manner is of course open to much debate. It seems to make sense to eat less meat, reared in the best way possible and used sensibly. We can learn a lot from the seasons and the way people used to cook though of course we can't go back to how they lived (and I doubt we would want to) but we can think more carefully about what we eat and when we eat it.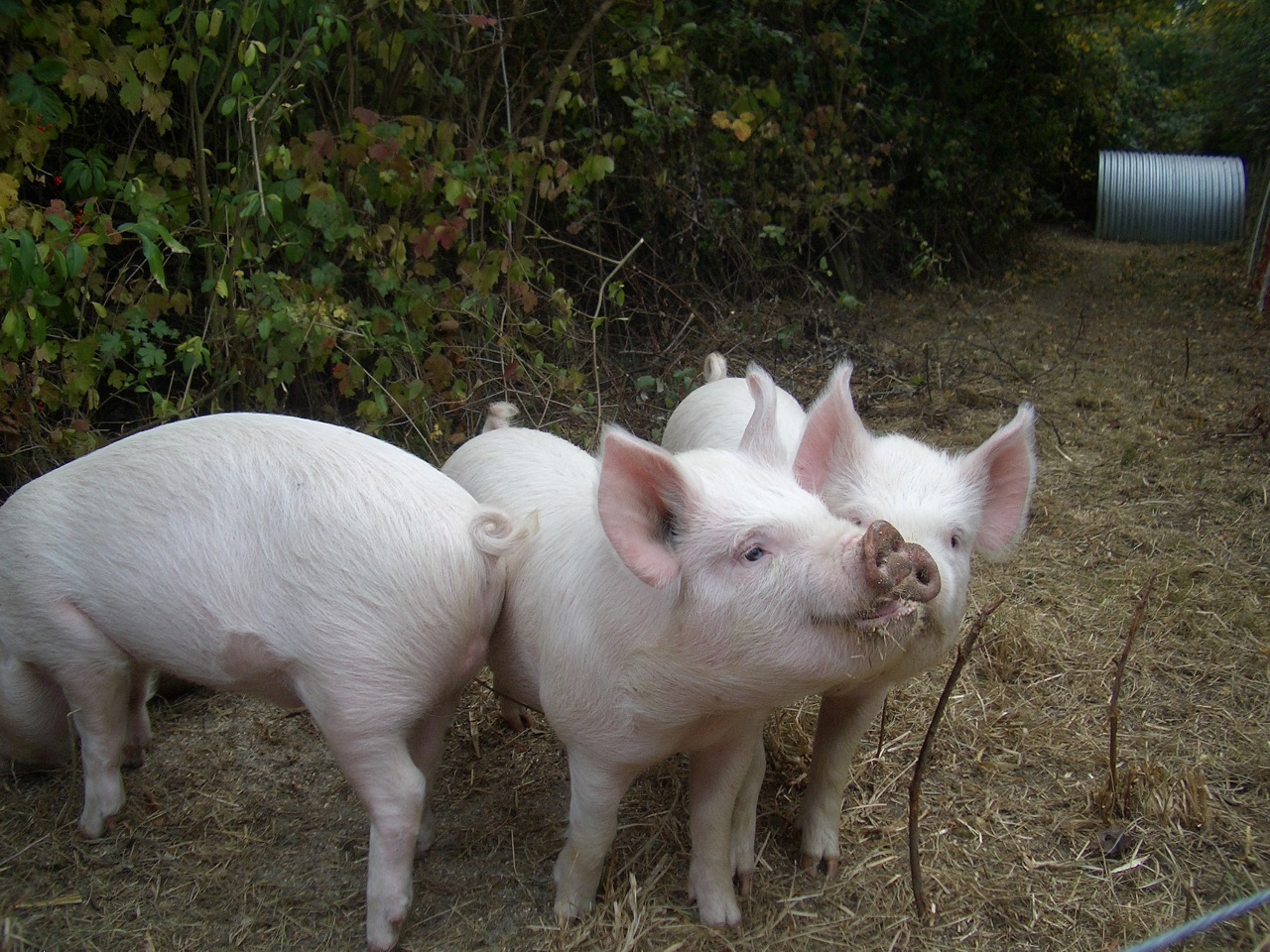 So eating pork at this time of year makes sense seasonally and pairing it with apples has a long heritage. Roast pork and apple sauce is a classic British dish with the apple sauce cutting through the sweet fattiness of the pork. That's the point of this combination the apple provides a counterpoint to the meat, so often missed with over sweetened commercial sauces. Apple jelly is wonderful with sausages, either on the side or as a glaze to create extra sticky sausages. If you don't have your own apple jelly to hand then try one with a little kick of chilli for some added interest (Jules & Sharpies Sage & Apple Jelly is my current favourite) track down something local to you and support a local food business.
There's a recipe I've been cooking for years that sprang to mind (from an early Delia Smith book) after I'd been to an Apple Day event at Copped Hall in Essex recently. I think it's the first dish I cooked entirely on my own at home but I wanted to do it a bit differently this time and make it into an almost one-pot dish. It's simple, pretty quick and of course tasty.
Creamy pork, apples, cider and potatoes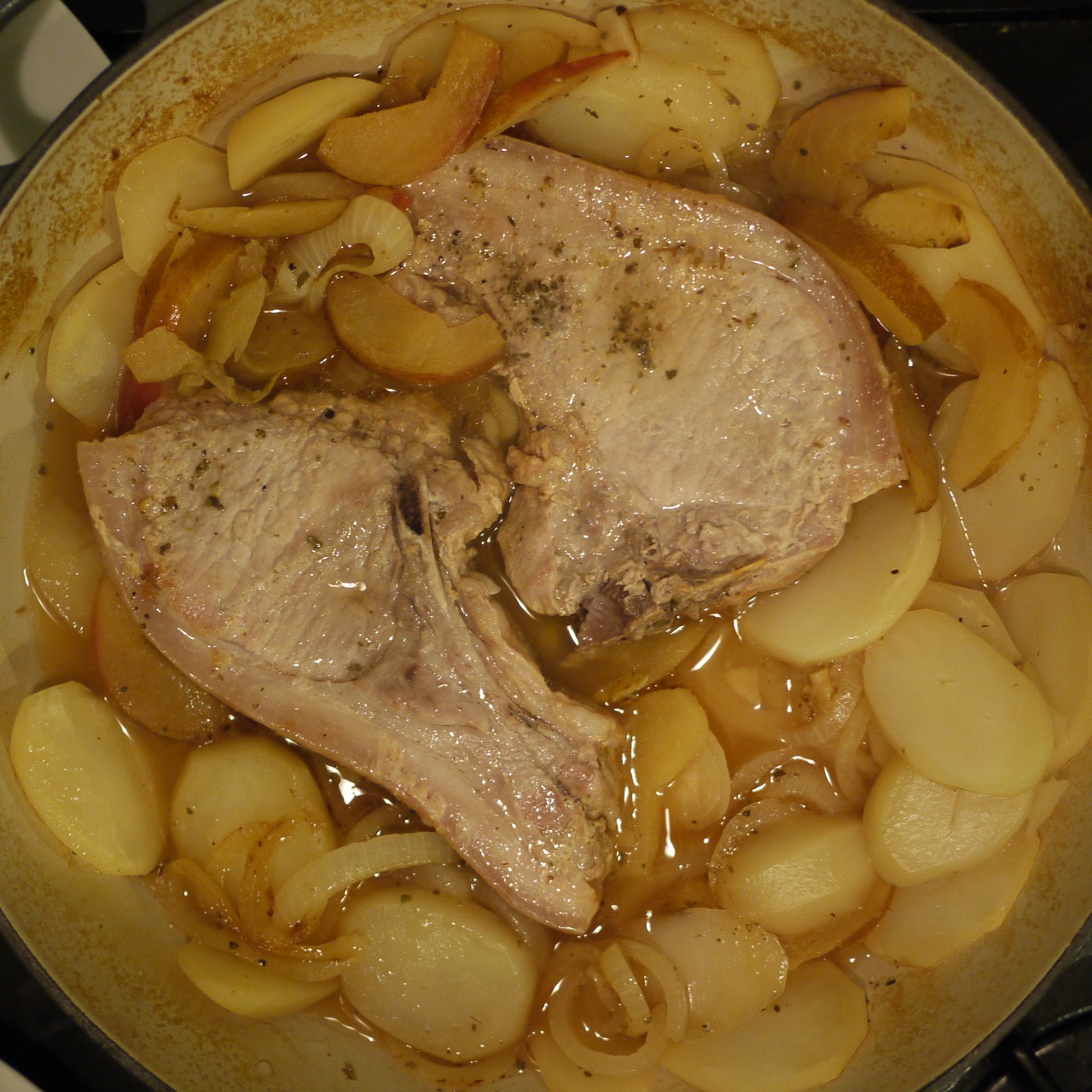 For 2 people you need:
2 large pork chops on the bone
1 onion, sliced into rings
1 apple, I used an Egremont russet (my favourite apple just sharp enough and good firm flesh), cored and sliced but not peeled
½ bottle cider, I used Aspalls Organic
small handful of fresh sage (about a tbsp when chopped)
½ tub crème fraiche (100g)
3-4 large potatoes cut into thin slices
salt & pepper
butter
What to do….
Pre heat the oven to 190C/R5
Put some butter in a frying pan and brown the chops, place then in a shallow casserole dish.
If needed add a little extra butter and soften the onions for about 5 minutes over a low heat, add them to the pork chops.
Fry the apple slices quickly and add to the casserole.
Add the cider to the frying pan and bring to simmering then pour over the chops.
Sprinkle the casserole with the chopped sage and season with salt and pepper.
Add the crème fraiche and stir into the liquid
Add the potato slices pushing them down into the creamy liquid.
Cover and cook for 20 minutes then remove the lid and cook for a further 20 minutes.
The chops will be cooked but remain juicy, the potatoes will have absorbed some of the creamy liquid and cooked rather like daupinoise. Serve with a lightly steamed autumn vegetable to balance the creaminess, we had red cabbage.